Here are some beautiful space photos and videos that have been posted on the Internet recently. Enjoy!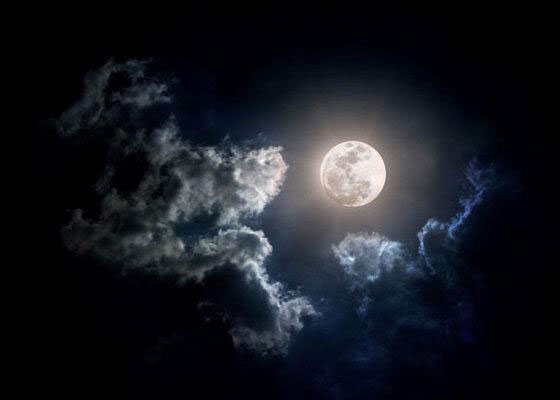 This photo of the "Blue Moon" over the Netherlands shows July's 2nd full moon peeking through the clouds.
A "Blue Moon" does not refer to the color of the Moon.  Instead, when there are two full Moons in a given month, the 2nd full Moon is called a "Blue Moon."  The July 2015 full Moons occurred on July 2 and July 31.
———————–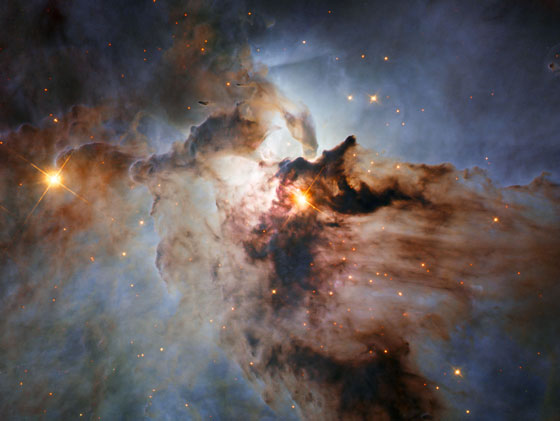 Some of the most breathtaking views in the Universe are created by nebulae — hot, glowing clouds of gas. This new NASA/ESA Hubble Space Telescope image shows the center of the Lagoon Nebula, an object with a deceptively tranquil name. The region is filled with intense winds from hot stars, churning funnels of gas, and energetic star formation, all embedded within an intricate haze of gas and pitch-dark dust.  The Lagoon Nebula is located in the Name A Star Live constellation Sagittarius.
The inspiration for this nebula's name may not be immediately obvious — this is because the image captures only the very heart of the nebula. The Lagoon Nebula's name becomes much clearer in the following wider field view when the broad, lagoon-shaped dust lane that crosses the glowing gas of the nebula can be made out.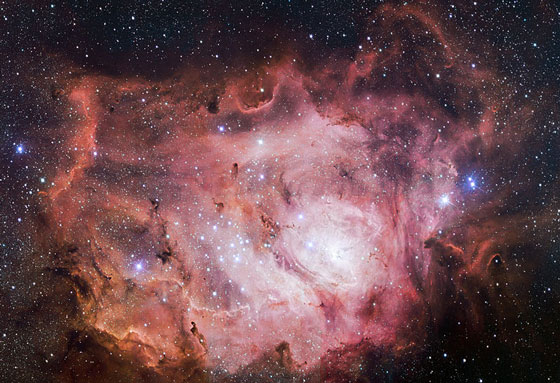 The bright star embedded in dark clouds at the center of the top image is known as Herschel 36. This star is responsible for sculpting the surrounding cloud, stripping away material and influencing its shape.
This central part of the Lagoon Nebula contains two main structures of gas and dust connected by wispy twisters, visible in the middle third of this image. These features are quite similar to their namesakes on Earth — they are thought to be wrapped up into their funnel-like shapes by temperature differences between the hot surface and cold interior of the clouds. The nebula is also actively forming new stars, and energetic winds from these newborns may contribute to creating the twisters.
———————–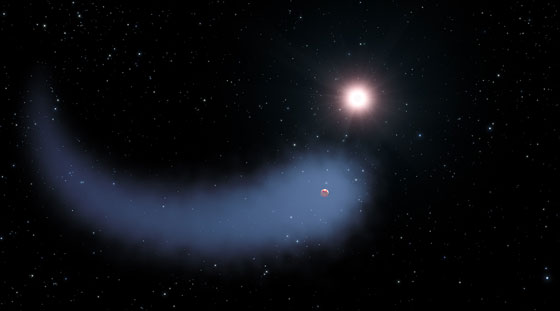 Astronomers using NASA's Hubble Space Telescope have discovered an immense cloud of hydrogen dubbed "The Behemoth" bleeding off a planet orbiting a nearby star located in the Name A Star Live constellation Leo. The enormous, comet-like feature is about 50 times the size of the parent star. The hydrogen is evaporating from a warm, Neptune-sized planet, due to extreme radiation from the star.
A phenomenon this large has never before been seen around any exoplanet. Given this planet's small size, it may offer clues to how Hot Super-Earths — massive, rocky, hot versions of Earth — are born around other stars through the evaporation of their outer layers of hydrogen.
"This cloud is very spectacular, though the evaporation rate does not threaten the planet right now," explains the study's leader, David Ehrenreich of the Observatory of the University of Geneva in Switzerland. "But we know that in the past, the star, which is a faint red dwarf, was more active. This means that the planet evaporated faster during its first billion years of existence. Overall, we estimate that it may have lost up to 10 percent of its atmosphere."
The planet, named GJ 436b, is considered to be a "Warm Neptune," because of its size and it is much closer to its star than Neptune is to our sun. Although it is in no danger of having its atmosphere completely evaporated and being stripped down to a rocky core, this planet could explain the existence of so-called Hot Super-Earths that are very close to their stars.
These hot, rocky worlds were discovered by the Convection Rotation and Planetary Transits (CoRoT) spacecraft (led by the French Space Agency (CNES) in collaboration with ESA (the European Space Agency), and several other international partners), and NASA's Kepler space telescope. Hot Super-Earths could be the remnants of more massive planets that completely lost their thick, gaseous atmospheres to the same type of evaporation.
Because Earth's atmosphere blocks most ultraviolet light, astronomers needed a space telescope with Hubble's ultraviolet capability and exquisite precision to find "The Behemoth."
"You would have to have Hubble's eyes," says Ehrenreich. "You would not see it in visible wavelengths. But when you turn the ultraviolet eye of Hubble onto the system, it's really kind of a transformation, because the planet turns into a monstrous thing."
Because the planet's orbit is tilted nearly edge-on to our view from Earth, the planet can be seen passing in front of its star. Astronomers also saw the star eclipsed by "The Behemoth" hydrogen cloud around the planet.
Ehrenreich and his team think that such a huge cloud of gas can exist around this planet because the cloud is not rapidly heated and swept away by the radiation pressure from the relatively cool red dwarf star. This allows the cloud to stick around for a longer time. The team's findings will be published in the June 25 edition of the journal Nature.
Evaporation such as this may have happened in the earlier stages of our own solar system, when Earth had a hydrogen-rich atmosphere that dissipated over 100 million to 500 million years. If so, Earth may previously have sported a comet-like tail. It's also possible it could happen to Earth's atmosphere at the end of our planet's life, when the sun swells up to become a red giant and boils off our remaining atmosphere, before engulfing our planet completely.
GJ 436b resides very close to its star — less than 3 million miles — and whips around it in just 2.6 Earth days. (In comparison, Earth is 93 million miles from our sun and orbits it every 365.24 days.) This exoplanet is at least 6 billion years old, and may even be twice that age. It has a mass of around 23 Earths. At just 30 light-years from Earth, it's one of the closest known extrasolar planets.
Finding "The Behemoth" could be a game-changer for characterizing atmospheres of the whole population of Neptune-sized planets and Super-Earths in ultraviolet observations. In the coming years, Ehrenreich expects that astronomers will find thousands of this kind of planet.
The ultraviolet technique used in this study also may spot the signature of oceans evaporating on smaller, more Earth-like planets. It will be extremely challenging for astronomers to directly see water vapor on those worlds, because it's too low in the atmosphere and shielded from telescopes. However, when water molecules are broken by the stellar radiation into hydrogen and oxygen, the relatively light hydrogen atoms can escape the planet. If scientists could spot this hydrogen evaporating from a planet that is a bit more temperate and little less massive than GJ 436b, that is a good sign of an ocean on the surface.
———————–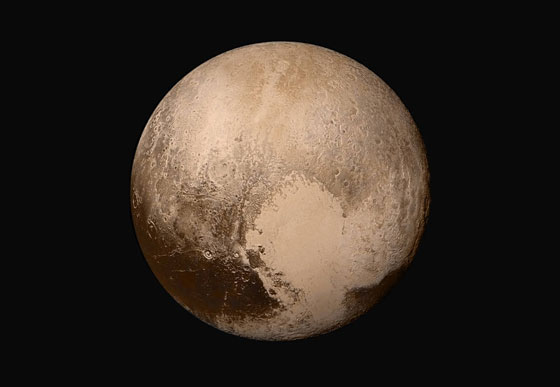 Four images from New Horizons' Long Range Reconnaissance Imager (LORRI) were combined with color data from the Ralph instrument to create this sharp, global view of Pluto, showing the now famous heart-shaped region. The images, taken when the spacecraft was 280,000 miles (450,000 kilometers) away from Pluto, show features as small as 1.4 miles (2.2 kilometers). That's twice the resolution of the single-image view captured on July 13 and revealed at the approximate time of New Horizons' July 14 closest approach.
———————–
We've all seen images of extreme weather from space. But none of those could prepare us for this video produced by NASA's Scientific Visualization Studio. Using real data, this simulation's volume-rendered clouds depict seven days in 2005 when a category-4 typhoon developed off the coast of China.