Name A Star Live makes you part of real space missions by launching your star name into space.  As the holiday season is upon us, we thought we'd share some of the ways Christmas is celebrated in outer space.  We even provide a futuristic, and amusing, look at Christmas through the vision of Star Trek!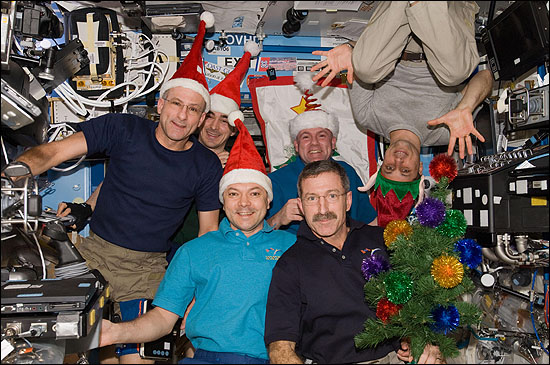 The Christmas Eve Broadcast of Apollo 8 from the Moon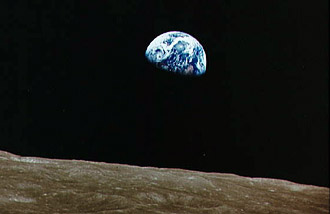 Perhaps the most famous celebration of Christmas in the final frontier occurred on the evening of December 24, 1968 when Apollo 8 Commander Frank Borman, Command Module Pilot Jim Lovell and Lunar Module Pilot William Anders became the first humans to orbit the Moon … and the first astronauts to spend Christmas in space.
To mark the occasion, they sent Christmas greetings and live images back to their home planet and read from the Book of Genesis. Borman closed the message with the words "good night, good luck, a Merry Christmas, and God bless all of you — all of you on the good Earth."
It is estimated that as many as one billion people watched the historic broadcast or listened on the radio.  Listen to the message they delivered that Christmas Eve.
Apollo 8 launched from Earth on Dec. 21 and entered lunar orbit on Christmas Eve. The Apollo 8 crewmembers ended their history-making journey when they splashed down in the Pacific Ocean on Dec. 27. Eight more Apollo missions would visit the Moon, with six of them landing on its surface.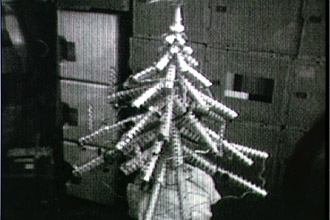 Christmas in Earth Orbit
The Skylab 4 crew was the next set of astronauts to spend Christmas in space, in 1973. To give Skylab a touch of the holiday season, Commander Gerald Carr, Pilot William Pogue and Scientist Edward Gibson made a Christmas tree with food cans. (See photo at left.)
It would be 22 years before another American would spend Christmas outside Earth's atmosphere. Astronaut John Blaha celebrated the holiday in orbit aboard the Russian Mir space station in 1996.
The first Space Shuttle mission to fly during Christmas was STS-103, on the Space Shuttle Discovery.  The mission, which lasted from Dec. 19 to Dec. 27, 1999, gave NASA and the world a Christmas present that is still giving to the scientific community. After three consecutive days of spacewalks to make repairs and upgrades, they returned the Hubble Space Telescope to service on Christmas Day. Hubble had been in hibernation since the loss of its fourth gyroscope, designed to enable the telescope to point precisely at distant astronomical targets for scientific observations.
The first Christmas aboard the International Space Station (ISS) occurred in 2000 with the Expedition One crew. Astronaut Bill Shepherd and Cosmonauts Yuri Gidzenko and Sergei Krikalev spent a quiet Christmas Day opening gifts and talking to their families.
NASA helps Santa Claus
Sometimes Santa needs some help navigating around the world on Christmas Eve, so on Dec. 24, 2001 Expedition Four Commander Yury Onufrienko and Flight Engineers Daniel Bursch and Carl Walz joined space station Flight Director John Curry and his Mission Control personnel in Houston to help Santa Claus complete his mission on time. Click on any of the links below to see how NASA helped Santa out:
QuickTime Format
Media Player Format – 28K / 56K
Real Video Format – 28K / 56K
Make it so, Make it so, Make it so
As we look to the future, humans might one day celebrate the holidays on the Moon and Mars, in a free-floating space colony orbiting Jupiter, or in some other part of the Milky Way galaxy.  But perhaps we should look to Star Trek for guidance — humorous guidance in this case!

Happy Holidays!