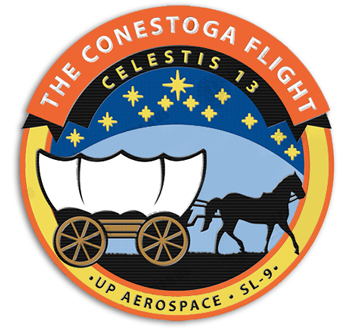 We invite you to suggest a name for our next mission where we will fly our customers' star names into space.  The mission is scheduled for launch on November 5, 2015 and will fly from Spaceport America, New Mexico, where we have flown several times before. The winner of the contest will receive a mission patch that we have flown in space, together with a certificate of authenticity!
If you're interested in the mission-naming contest, it might help you to consider the names of our previous spaceflights. We called our first mission "The Founders Flight." Our December 1999 mission was called "The Millennial Flight." And our last mission — "The Conestoga Flight" — was named in honor Conestoga 1, the world's first privately funded mission to space. Conestoga 1 was launched September 9, 1982 by Space Services Inc. of America, from which Celestis traces its corporate history.
Consider the venue — Spaceport America. It's a new launch facility that will serve as the headquarters of Sir Richard Branson's Virgin Galactic space tourism company. It's also located near the White Sands Missile Range, where so much space history has been made.
Be creative! If you have a suggestion, please contact us! The contest deadline is July 31, 2015.