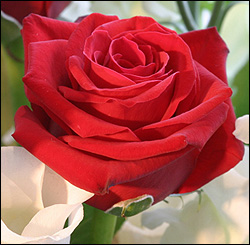 As you're thinking about what to get your significant other for Valentine's Day, you might be interested in some of the Valentine's Day messages Name A Star Live customers have included on their Star Certificates in recent weeks. Below are some of the best messages we've received so far. Of course, we've changed the names in the messages to protect the privacy of our customers.  We hope these examples will give you some ideas about what to write for your loved one.  Have a happy Valentine's Day!
To my husband, BAC: I love you more than all the stars; even to Andromeda and back! Our eternal love will forever hold a place in the sky <3 Love your wife, MEC
Happy Valentine's Day, my love! Our first together, but let this star shine as brightly as our love grows each day. Now we can say our love has traveled through space and time! I love you, my heart!
To my gorgeous boyfriend.  Now you have a star named after you.  Happy Valentine's Day.  Our love will last for thousands of years like a star lives.  Lots and lots of love forever xxxxx
A star is an amazing thing, beautiful and breathtaking. I dedicate this star as a symbol of our love, burning hot and bright through eternity. I love you.
Once upon a time I wished upon a star for a sweet, handsome, honest, fun, loving, caring, smart, and romantic man. You're everything I ever dreamed of. You are my prince 🙂 I love you xoxo
No matter where we are under the stars, we will always be together…
To a wonderful Husband, Father and Friend.  Every time you look into the night sky, I hope you see your star!  "To love another person is to see the face of God." – Victor Hugo
Princess, I love you to the stars! This one is named for you, the most adored person in my life! Your smile lights my soul more than the brightest star. I wish I could lasso it and give it to you!
Loving you is like breathing I just can't stop. How I wish that I could spend my whole life under the skies watching the stars with you.  I Love you.
May this star prove my undying love for you. I love you my beautiful princess, forever and always.