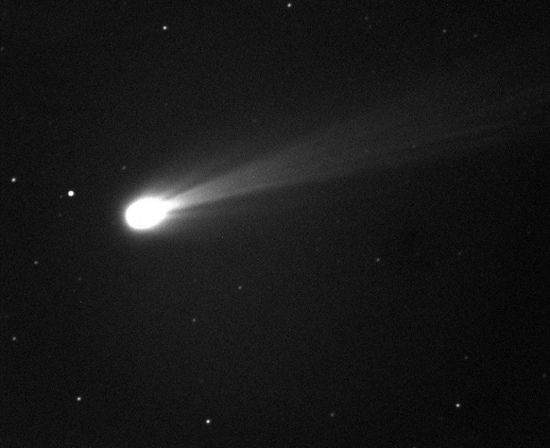 Comet ISON shines brightly in this image taken on the morning of Nov. 19, 2013. This is a 10-second exposure taken with the Marshall Space Flight Center 20″ telescope in New Mexico. The camera there is black and white, but the smaller field of view allows for a better "zoom in" on the comet's coma, which is essentially the head of the comet.
The comet makes its closest approach to the Sun on Nov. 28, 2013 — Thanksgiving Day in the U.S. Should the comet survive its close encounter with our star, the comet could put on quite a show in December.  Its tail would demonstrate the effect of the physical pressure of sunlight — the force the Sunjammer solar sail will use to fly into deep space.  Sunjammer will carry our customers' star names into the final frontier.  Read more about the comet and Sunjammer in our blog post from early November entitled, "The Comet & the Sunjammer Solar Sail."
And check out this neat video (below) of Comet ISON rising over the Canary Islands just a few days ago!